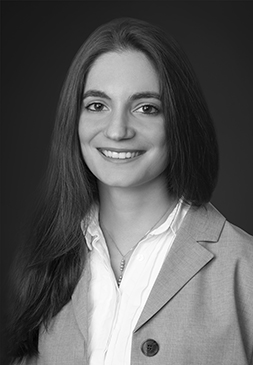 Primary location
8 Finsbury Circus
London, EC2M 7EA, UK

Mariam Arutyunyan
Associate Principal
Mariam Arutyunyan is an Associate Principal in the European Competition Practice of Charles River Associates. She is an empirical economist and advises clients on competition and antitrust economics including horizontal and vertical mergers, abuse of dominance investigations, and market investigations.
Since joining CRA in 2017, Mariam has advised clients before the European Commission, the UK's Competition and Markets Authority (CMA), DOJ in the US, CADE in Brazil, as well as other national competition authorities. This included numerous high profile cases across a variety of industries including local retail (Sainsbury's/Asda, UK; Loxam/UKP, UK), local delivery (Uber/Postmates, US), offshore oil & gas and marine (Kongsberg / Rolls Royce, European Commission), telecoms (Cellnex/CK Hutchison, UK; Cellnex/Arqiva, UK), TV and music streaming (advising Sony Music on the CMA's Music Streaming investigation, UK; PPF/CME, the Czech Republic), live entertainment venues (AEG/Onex JV, UK), industrials (Ingersoll Rand/Gardner Denver, European Commission), and pharmaceuticals (abuse of dominance position, UK).
Prior to joining CRA, Mariam completed MPhil in Economic Research from the University of Cambridge (Cambridge, UK) and BSc in Economics from the Higher School of Economics (Moscow, Russia). Her working languages are English, Russian, and Armenian.
Education
MPhil Economic Research, University of Cambridge
BSc Economics, National Research University Higher School of Economics, Moscow, Russia
News Articles
The CMA concludes its independent study into the music streaming market
Read More
European Commission conditionally clears Celanese's acquisition of DuPont's Mobility & Materials Business
Read More
The CMA conditionally cleared Cellnex acquisition of CK Hutchison's passive telecom infrastructure assets in the UK at Phase II
Read More
DOJ clears Uber's acquisition of Postmates
Read More
EC unconditionally clears PPF acquisition of CME
Read More
CMA clears Cellnex's acquisition of Arqiva
Read More
Ingersoll Rand and Gardner Denver receive unconditional clearance from the European Commission
Read More
CMA unconditionally clears AEG/Onex joint-venture.
Read More
European Commission unconditionally clears Kongsberg's acquisition of Rolls Royce Commercial Marine
Read More
UK CMA unconditionally clears Loxam/UKP merger in Phase I
Read More