CRA Conference 'Competition & Regulation in Disrupted Times' (31 March 2022)
Competition & Regulation in Disrupted Times
Post-Covid enforcement, resilience, innovation, concentration, labour markets, digital regulation & digital diversity, privacy & antitrust and more…
Cristina Caffarra has assembled speakers for the annual CRA conference Competition & Regulation in Disrupted Times, to take place on Thursday 31st March 2021.  Back in person* at the Steigenberger Wiltcher's Hotel, Brussels but also livestreamed.
*Proof of double vaccination will be required at the door.
For more information please visit www.cra-brusselsconference.com.
Speakers include:
Margrethe Vestager, Executive Vice President, Commissioner for Competition, European Commission
Andrea Coscelli CBE, Chief Executive, UK Competition and Markets Authority
Jan Eeckhout, ICREA Research Professor of Economics, UPF Barcelona
Ioana Marinescu, Associate Professor, University of Pennsylvania School of Social Policy & Practice
Barry Lynn, Open Markets Institute
John Van Reenen OBE, Chair and School Professor, Department of Economics, LSE
Richard E Baldwin, Professor, International Economics, Graduate Institute Geneva
Tommaso Valletti, Professor of Economics, Imperial College London
Thierry Breton, Commissioner for the Internal Market, European Commission
Andreas Mundt, President, Bundeskartellamt
Andreas Schwab, Member of the European Parliament
Rod Sims, Chair, Australian Competition & Consumer Commission
Alexandra Geese, Member of the European Parliament
Isabelle De Silva, Conseil d'Etat, former President Adlc
Monika Schnitzer, Professor of Economics, Ludwig-Maximilians-University of Munich
Pierre Régibeau, Chief Economist, DG Competition, European Commission
Thomas Philippon, Professor of Finance, New York University, Stern School of Business
David Lawrence, Policy Director, US DOJ Antitrust Division
Marc Van Der Woude, President of the General Court of the EU
Rupprecht Podszun, Vice President of ASCOLA, Heinrich Heine Universität, Düsseldorf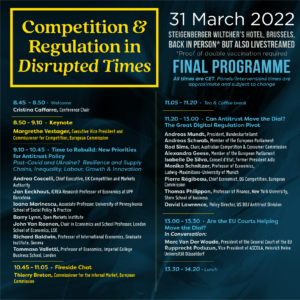 There is no fee to attend this conference.